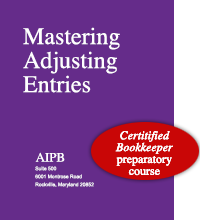 Mastering Adjusting Entries
ISBN: 9781884826252
Learn to set up the trial balance, compute and record all end-of-period adjustments and present the adjusted trial balance. You now have everything needed for the financial statements and tax return. Double-quiz in each section assures that you master it.
Mastering Adjusting Entries
Average rating:
885 reviews
Sep 9, 2020
This book has been extremely beneficial. The format is perfect. It will be a great reference book.
Sep 1, 2020
I really like the way it explained in details,
Easily understandable.
Aug 22, 2020
great, informative and helpful
Jul 4, 2020
Enjoyed the course
Jun 16, 2020
The examples and quizes are excellent and drives home the message to becoming a take cahrge bookkeeper.
Jun 4, 2020
I am new to bookkeeping only about 2 1/2 years experience, we use QBO and QBD software. This book really helped me to learn the basics with debits and credits. Software does this work for you and now that I have much better understanding of bookkeeping I can use this information to make the software work better for my clients.
Sep 18, 2019
Material great, presentation great, I just need more practice.
Sep 9, 2019
Really made the accounting cycle more clear to me.
Aug 22, 2019
The contents are great. Only one confusing part (as I've been doing bookkeeping a bit), CPA&Auditors use the expression "deferred revenue" instead of "Revenue collected in Advance" or "Unearned revenue" in real practice. It would be nice to add "deferred revenue" expression in your course. Or, my understanding wrong ?